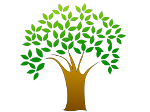 Level One
Requirements & Signing Pages
Level Two Requirements & Signing Pages
Level Three Requirements & Signing Pages
Level Four Requirements & Signing Pages
Level Five Requirements & Signing Pages
Sing-Along Level One Memory Work
Creation Song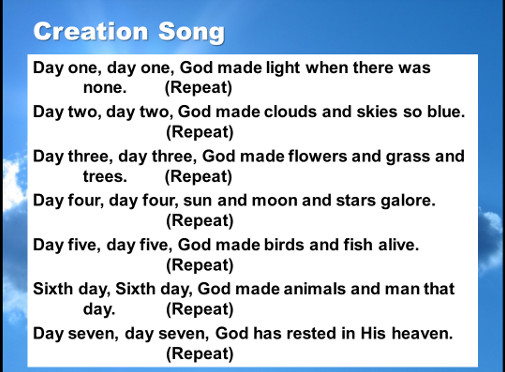 The Ten Commandments
Exodus 20:3-17 
1.You shall have no other gods before me.
2.You shall not make for yourselves any idol.
3.You shall not misuse the name of the Lord your God.
4.Remember the Sabbath day by keeping it holy.
5.Honor your father and mother.
6.You shall not murder.
7.You shall not commit adultery.
8.You shall not steal.
9.You shall not give false testimony against your neighbour.
10. You shall not covet.
The Sons of Jacob
Reuben, Simeon, Levi, Judah, Issachar, Zebulun, Dan and Naphtali, Gad, Asher, Joseph, and Benjamin. These are the 12 sons of Jacob.
Judges
God set Judges over Israel,
One brave woman, 14 men.
Led the people into battle,
Brought them back to God from sin.
Othniel, Ehud, Shamgar, Deborah,
Gideon, Abimelech, Tola, Jair,
Jephthah, Ibzan, Elon, Abdon,
Samson, Eli, Samuel.
Old Testament Books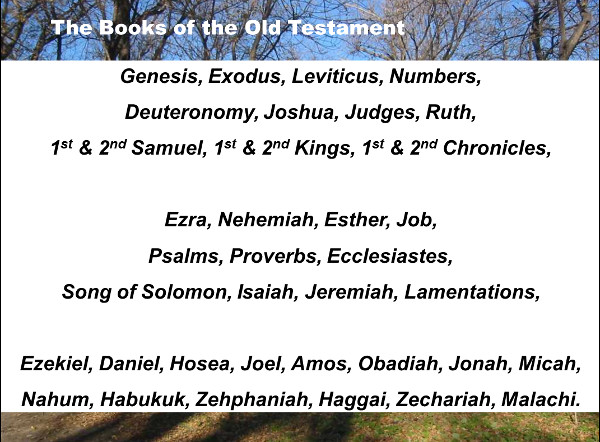 New Testament Books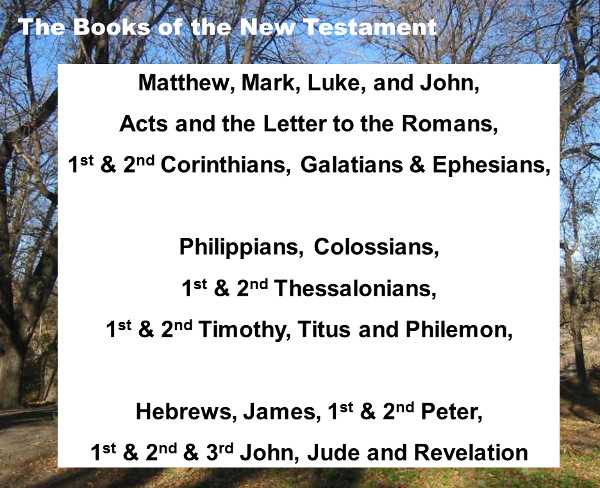 Apostles Song
(Tune: Jesus Loves Me)
Jesus called them one by one.
Peter, Andrew, James, and John.
Next came Phillip, Thomas too.
Matthew and Bartholomew.
James the son of Alphaeus,
Simon, also Thaddeus.
Twelve apostles Judas made,
Jesus was by him betrayed.
Matthias then took Judas' place
To preach to men of every race.
Paul, three
preaching trips did take,
And went to Rome for Jesus' sake.
Yes, Jesus called them.
Yes Jesus called them.
Yes, Jesus called them.
And they all followed Him.
The Fruit of the Spirit
Galatians 5:22-23
"But the fruit of the Spirit is love, joy,
peace, patience, kindness, goodness,
faithfulness, gentleness, and self-control."
Psalm 100
"Shout for joy to the Lord all the earth.
Worship the Lord with gladness; come before him
with joyful songs.
Know that the Lord is God.
It is he who made us, and we are his; we are his
people, the sheep of his pasture.
Enter his gates with thanksgiving, and his courts
with praise; give thanks to him and praise his name.
For the Lord is good and his love endures forever;
his faithfulness continues through all generations."
Romans 8:38-39
"For I am convinced that neither death nor life,
neither angels nor demons, neither the present nor
the future, nor any powers, neither height nor
depth, nor anything else in all creation, will be able
to separate us from the love of God that is in Christ
Jesus our Lord."